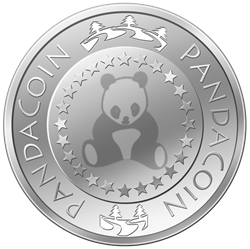 Ticker: PAND. This is the first version of scrypt Pandacoin. Launched in January 2014. Pandacoin is a first ever cryptocoin with block reward decreasing every day!
Original Pandacoin (PAND) Features:
Block reward decreasing every day -> that gives gradual emission and more stable exchange price growth.
One of the first coins to implement Kimoto's Gravity Well  -> this feature secure Pandacoin (PAND) from "pool hoppers" and regulates difficulty retargeting more perfectly.
While it takes 3 year to mine 19.5 mln PAND, the rest 1.5 mln will be mined during the next 100 years -> this helps to support network and secure exchange price.
Pandacoin client is translated to chinese -> this gives access to a huge market.
PAND is traded on 4 exchanges -> this gives independence and secure your investments.
Windows QT wallet:
1. http://www.chainbrowser.com/qt/Pandacoin.zip
2. https://drive.google.com/file/d/0B7NofUy_zw7SWUIxTXhjQVkzd0k/edit?usp=sharing
Mac OS X Wallet
1. https://www.dropbox.com/s/aq6xigrycqs0zj7/Pandacoin-Qt-MacOSX.zip
Pandacoin [PAND] specifications:
Algo: Scrypt
Max coins: 21 000 000
Coins per block: starting from 91.146, decreasing a little every 24 houres.
Block time: 2.5 minutes
Difficulty retarget time: every block (Kimoto Gravity Well)
Premine: 2% 0,95% after SuperGiveaway on 18 JANUARY.
Mining targets:
1st year ~ 12.5 mln coins
2nd year ~ 5 mln coins
3rd year ~ 2 mln coins
—
Total: 19.5 mln coins will be mined in three years.
PAND Pandacoin mining pool: http://panda.argakiig.us/
Pandacoin addnodes for pandacoin.conf configuration file:
addnode=198.98.118.241
addnode=173.49.55.56
addnode=80.241.218.226
addnode=172.245.21.138
addnode=37.187.28.205
addnode=121.139.83.76
addnode=80.222.122.93
addnode=23.253.54.150
addnode=74.45.154.47
addnode=54.204.54.238
addnode=78.181.211.108
addnode=114.86.236.31
addnode=86.149.209.95
addnode=83.86.92.116
addnode=83.221.201.115
addnode=113.167.205.119
addnode=114.26.147.104
addnode=67.174.132.254
addnode=142.167.225.107
addnode=124.66.64.201
addnode=81.155.150.144
addnode=86.13.4.140