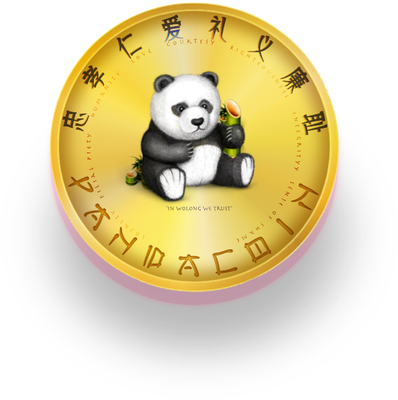 Ticker: PND. This is no premine version of the Panda Coin. Launched on 14th February 2014.
"All war is deception." – Sun Tzu
Early 2015 (approximately a year and a half after release) there will be approximately 100,000,000,000 pandacoins.
Each subsequent block will grant 10,000 coins to encourage miners to continue to secure the network and make up for lost wallets on hard drives/phones/lost encryption passwords/etc.
Download Pandacoin wallets: https://github.com/pandacoin-official/binaries
Social profiles of the no premined Panda Coin:
Pandacoin specifications (no premine version):
Coin ticker: PND
Algorithm: Scrypt
Premine: NONE! ZERO! 0%!
1 Minute Block Targets, 4 Hour Diff Readjustments
Special reward system: Random block rewards
Scrypt Adaptive-N with Kimotos Gravity Well
Pandacoin Block Rewards:
Block 1-50,000: 0-1,000,000 PandaCoin Reward
Block 50,001 — 100,000: 0-500,000 PandaCoin Reward
Block 100,001 — 200,000: 0-250,000 PandaCoin Reward
Block 200,001 — 300,000: 0-125,000 PandaCoin Reward
Block 300,001 — 400,000: 0-62,500 PandaCoin Reward
Block 400,001 – 500,000: 0-31,250 PandaCoin Reward
Block 500,000+: 5,000 PandaCoin Reward
"No premine" Pandacoin mining pools: