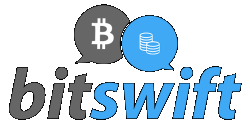 BitSwift [SWIFT] is a 100% POS altcoin designed to change public perception of how wire transfers and sending currency works around the planet.
With SWIFT, users can send money anytime, to anyone, anywhere in the world. Transfers take place almost instantly, with absolutely ZERO fees! Soon after launch, their plan is to be listed on a trade exchange that supports SWIFT / FIAT pairing.
BitSwift Wallet Downloads:

– Windows v2.0 Webkit Update: http://www.mediafire.com/download/y0h4tonqm9c2876/bitswift-qt-1.2.zip
– Manual Windows Install: http://www.mediafire.com/download/rb22xqjvy82u6ox/BitSwift.zip
– Automatic Windows Install: mediafire.com/download/s33ce141cb6w5nf/BitSwift-installer.exe
– Mac OSX DMG: http://www.mediafire.com/download/ghmdv931h4gcg38/BitSwift-Qt-1.0.0-OSX.dmg
– Source: https://github.com/bitswiftdev/bitswift
BitSwift technical details:
4 Million SWIFT Total Supply
100% Proof-Of-Stake
3% PoS Annually
Minimum 4 Hour Minimum Stake Age
No BitSwift Transfer Fees!
BitSwift Social Media presence:
Facebook: https://www.facebook.com/bitswift
Reddit: http://www.reddit.com/r/Bit_Swift/
Twitter: https://twitter.com/bit_swift
BitSwift was the Fastest ICO Sellout in Bittrex History – Completed within 6 hours!
BitSwift Exchanges:
– Bittrex.com
– Betasharex.com
– Bleutrade.com