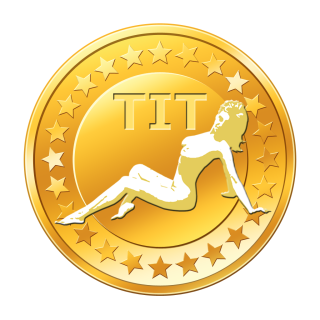 Titcoin [TIT] is a bitcoin clone, a sha-256 cryptocurrency dedicated to adult entertainment industry. The following article best captures Titcoin philosophy:
http://betabeat.com/2012/01/titcoins-what-porn-can-do-for-bitcoin
Launched on Saturday June 21st, 2014.
Download official Titcoin windows QT wallet from their website. Please be aware of some other clone coins claimed to be an original Titcoin.
Titcoin technical specifications:
Algorithm: SHA-256
Block Reward: 69 coins
Block Time: 5 minutes (300 seconds)
Total Coins: 69,000,000

Retarget: Every 2016 blocks

Halving Interval: 500,000 blocks
Titcoin social profiles:
@OfficialTitcoin
http://www.facebook.com/titcoin
Titcoin mining pools:
"Titcoins" promotional video: http://vimeo.com/92087150
Titcoin blockchain and live nodes:
addnode=titcoin.isasecret.com
addnode=titcoin.sytes.net
addnode=titcoin.slyip.com
addnode=108.61.10.90
addnode=198.50.169.238
addnode=95.85.23.9
addnode=109.120.173.59