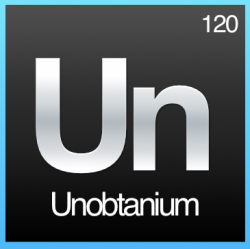 Unobtanium is a rare SHA-256 altcoin. Only 250.000 will ever be made. After that, there's no inflation possible.
SHA256, Proof of Work only. Block targets = 3 minutes; progressive difficulty adjustment.
Block reward of .001 coin for the first 2000 blocks to come up to target, no premine. Block reward of 1 coin per block, halving every 102,000 blocks and finishing with a minimum subsidy of .00001 after 612,000 blocks. Maximum of 250,000 coins ever.
Unobtanium specifications:
SHA-256 PoW
block target: 3 minutes
no premine
reward: 1 UNO after block 2000, halving every 102,000 blocks
Unobtanium resources:
Unobtanium SHA-256 mining pools:
A sample configuration file for Unobtanium coin:
unobtanium.conf
rpcuser=user
rpcpassword=x
rpcport=65535
port=65534
server=1
listen=1
daemon=1
rpcallow=192.168.0.* (or whatever your LAN range is)
addnode=71.7.130.11
addnode=69.85.86.195